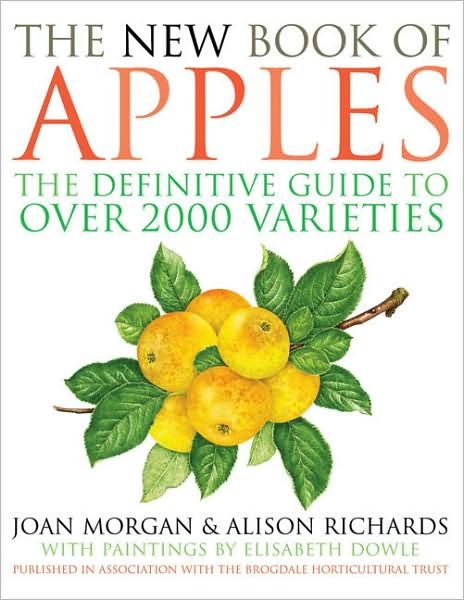 Terrific follow-up to Morgan's original
The Book Of Apples
, published, in conjunction with the
Brogdale Horticultural Trust
, in 1993.
-
snapshot
from writers at Alibris Bookseller:
Alibris wrote:This extraordinary book contains in one unique volume, the most wide ranging history of apples ever written and a detailed survey of over 2,000 of the world's apple varieties.

Beautifully illustrated with 32 exquisite colour paintings.

[Contains] a fully revised directory covering all the varieties of apples to be found in the world's largest apple collection.

"The New Book of Apples" includes full historical, geographical and botanical details as well as tasting notes on each type of apple.

Exploring the role of apples in cooking, cider making, gardening, myth and medicine, this is an indispensable reference guide.
Excerpted from synopsis in the Library Journal:
"The authors trace the history of the apple through a number of early civilizations, from the tree's use as the spoils of war, to the preservation of many varieties in monasteries with the fall of Rome, to the use of apples as a valuable resource in both the Old and the New Worlds.
"More than a third of the text is devoted to a directory of 2000-plus varieties, with information on origin, shape, habitat, and flavor.
"This revised edition will please readers with an extensive interest in cultivation, and it is essential for comprehensive public and academic library reference and gardening collections."
Table of Contents:
The Fruit Of Paradise
For Pleasure, Meate And Medicine
For God And Country
Apples For The Few
Apples For The Many
The Cider Story.
Directory Of Apple Varieties.
Appendices: cooking with apples; growing apples; further information.
An indispensable tome for those who are passionate about
pommes
!