We enjoyed the cider making so much that myself and three other members of Over the Gate decided to go on a cider weekend in the Autumn of 2006.
Here is yet another pictorial guide.
We arrived at Broome Farm, Peterstowe, Hereford at 8.00pm on Friday night . The proprietor Mike has about 40 acres down to cider apple growing with a small percentage of perry pears.
The bulk of his fruit goes under contract to Bulmers but the rest he uses on the farm to produce award winning cider and perry.
Our party then met up in a local hostelery for a meal before returning to the B&B on the farm for a couple of jugs of cider before bed.I think that we all slept like the dead.
After an excellent breakfast we watched Mike and a number of locals making cider. Here are some photographs of the procedings.
Thats me looking into the barn at the back.
Cider making goes on inside an open barn. Here we can see that what is termed as the 'cheese' is about to be pressed by a hydraulic press worked from power produced by the tractor.
The apples are fed through a shredder which again is worked by the tractor and then the resulting squished apples are folded in to sacks and then the individual sacks of mush are placed into a pile one top of each other ready for the pressure from the press to force the juice out in a cascade towards the waiting barrels
This lady had to stand on a milk crate to be able to get the layers of cheese to the required height.
Apples being washed before being shredded.
Not quite the finished article yet but the juice from the pressing is then poured into 40 gallon oak barrels obtained from the distilling industry. The barrels have either been used in whisky or rum brewing and depending on what the barrel has had in it dictates whether you get what is termed as rummed or whyskied cider.
Cider making in the UK is now very much on the up and there are lots of enterprises similar to Mikes producing a really good product.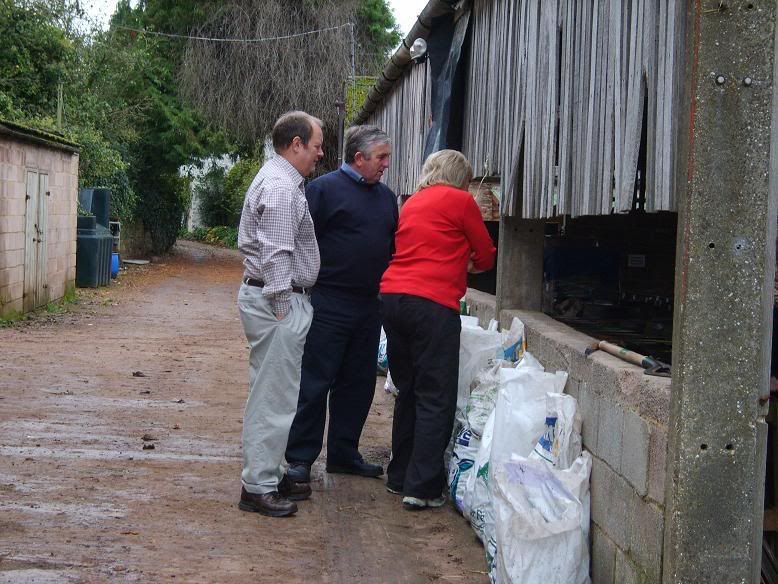 Heres Bodgers Cousin, yours truly and Rosas bottom sucking in the atmosphere and making sure we don't get our hands dirty.
In the day I think that they made in the region of 120 gallons.
The six of us then went to the Westons Cider Factory and did the tour to see how the big boys do it.
Everyone should go on a pilgrimage at least once in their lifetime. This was mine.
Just a few of the Michelin and Daubenet variety of cider apples waiting to go down in a sort of log plume effect down into the factory.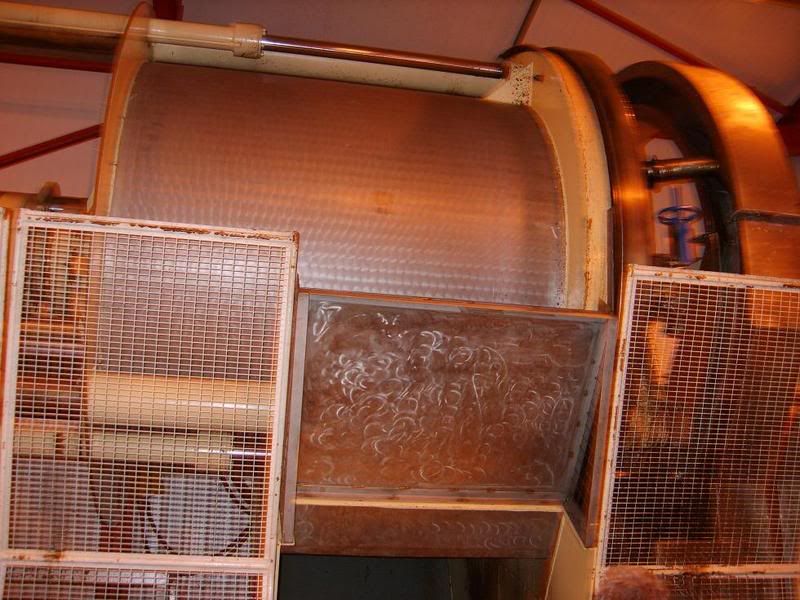 This is one of two massive fruit presses that Westons have. They were bought from olive oil producers in Italy and Greece and can each deal with 9 tons of mushed apples. These machines extract 30% more juice than the old fashioned presses and are worked by one person instead of the fourteen that used to be emplyed by the company.
The barrels at Westons held a little bit more apple juice than those at Broome Farm !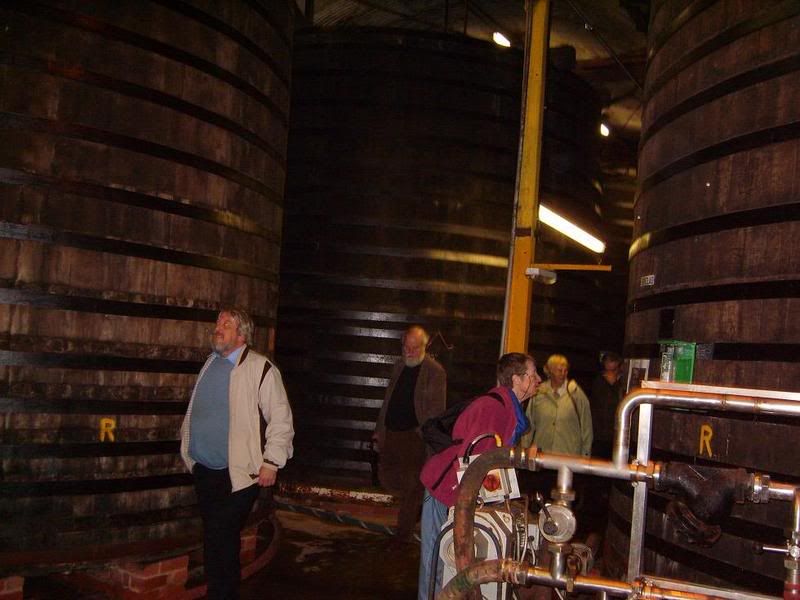 Some of these barrels were in excess of a hundred years old. They had dozens of them . I hope you can get an idea of the scale involved. The apple juice ferments in them for either four weeks or six months depending upon what type of cider they are producing.
So there you have it ! We have had a look at two ends of the cider producing scale .
I hope people have found it to be of interest.
I'll be going there again next year as well. Unfortuntely as good as technology is you can't get an idea of the tastes and smells involved.
Our next trip is being designed to take in a trip to Hereford or Ludlow Races.