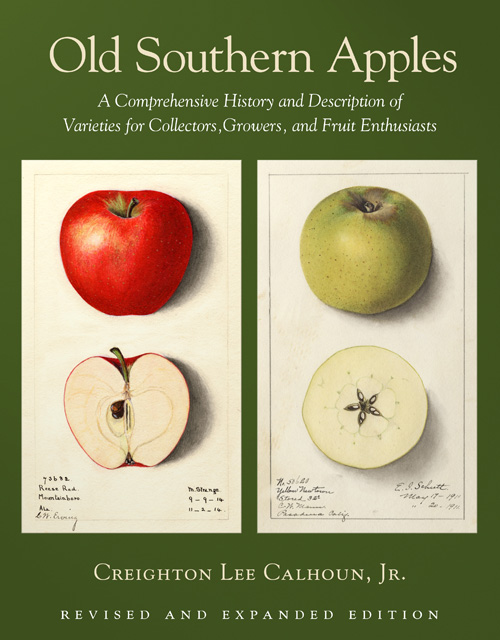 When
Old Southern Apples
was first published more than fifteen years ago, it became an instant classic. This comprehensive and resourceful tome listed some 1800 varieties, less than one third of which are known to still exist.
Calhoun's original magnum opus contained meticulously written descriptions of each heirloom apple, its individual history, and its several uses. The book's pièce de résistance were the colour prints of hundreds of historic botanical illustrations provided by the federal Department of Agriculture Pomological Watercolor Collection.
Old Southern Apples has been out of print for years, but this past January
Chelsea Green published a revised edition
that includes 200 additional varieties, all discovered after the first edition was released.
An exerpt from
one of the many laudatory reviews
:
"If 1800 meticulously-researched and elegantly written varietal descriptions were not enough, then consider Calhoun's front matter: a comprehensive history of the apple in the South, and a definitive treatment of apple cultivation practices of various historic eras, and a survey of historic uses of Southern apples. In addition to these long, well-crafted essays, Calhoun includes entertaining sidebar essays on Johnny Appleseed (not all laudatory!), the art of cooking apples, and several other topics.
"For readers who cherished the color plates in the first edition, be prepared to be awestruck by the quality and color intensity of the plates which Lee Calhoun and editor Ben Watson selected for the second edition. Thanks to a Ceres Foundation grant to the National Agricultural Library, a whole host of never-before published historic watercolors were chosen for this addition. They are, quite simply, knockouts—as fine as any prints ever published in an affordable book on horticultural history."
This sui generis reference guide for apple aficionados everywhere may be purchased at a special discount price from both Alibris and Barnes and Noble.